How to reduce risk and improve tactical decision-making during pursuits and other critical events
StarChase's GPS tag and track platform and app-based tracking solutions provide public safety with the ability to significantly reduce risk and increase the safety of their officers and the communities they serve
By Police1 BrandFocus Staff
At a time when law enforcement agencies are under public scrutiny for excessive force, they are less likely to use some of the common use-of-force tactics to end pursuits. In fact, a recent Washington Post study found that since 2016 dozens of people – including officers and bystanders – died, and hundreds were injured during PIT maneuvers. Considering that approximately 91% of pursuits are precipitated by non-violent crimes, the risk in using such potentially dangerous methods to end pursuits can be excessive, especially when safer alternatives exist.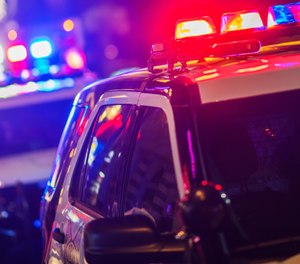 StarChase offers technology that protects life without compromising suspect apprehension. Its GPS-tagging-and-tracking system allows law enforcement to avoid a dangerous pursuit by tracking the suspect vehicle, thus affording command staff time to coordinate de-escalation tactics and plan for a safer, controlled apprehension.
In addition to curbing the need to engage in a potentially life-threatening, high-speed pursuit, StarChase also provides a data-supported record of the incident, including speed and direction of travel, that can help departments evidence an officer's compliance with pursuit policy.
Importantly, StarChase has also earned support from the American Civil Liberties Union for being compliant with the Fourth Amendment. According to the ACLU, StarChase's GPS tagging system "has the potential to obviate the need for high-speed pursuits by police cars through cities and towns, which are dangerous and kill hundreds each year, with a third or more of those fatalities being innocent bystanders."
StarChase pursuit management technology
The foundational product in StarChase's arsenal of technologies is the vehicle-mounted GPS tag launcher system (VML), that installs on the front end of a patrol vehicle. The launcher controls are located inside the cabin as well as on a remote launch fob in case the officer is away from the vehicle when the suspect flees. Once attached to the suspect's vehicle, the GPS tag transmits locational data every three to five seconds to dispatch computers as well as any other authorized connected devices for incident management.
When necessary, the suspect vehicle tracking data can be shared with neighboring jurisdictions, enabling increased tactical coordination for safe suspect apprehension. This enhanced situational control increases interagency cooperation and provides additional invaluable time and data.
"We know it's our job as police officers to catch the bad guy. That's what we do. StarChase just helps us do that more effectively and safer." – Officer John Syme, Independence Police Department, Independence, Missouri
StarChase also offers a handheld GPS launcher that provides mobile benefits. With a longer range than the vehicle mounted system, the handheld is ideal for security, border protection, checkpoints, or any applications where law enforcement needs a mobile platform.
Looking at the big picture
When critical events occur, it is essential that command staff have all the decision-making information they need at hand – including the locations of on-duty personnel and patrol vehicles.
StarChase's affordable AppTrac-365 delivers unprecedented visibility to command staff via a secure app-based platform delivering location tracking management services of all on-duty officers and vehicles live-streamed to the StarChase mapping platform. This critical location intelligence enables command staff to make informed decisions on day-to-day patrol and ever-changing events in their jurisdictions, such as crime hotspots, unrest, or any event that requires public safety involvement.
AppTrac-365 Software-as-a-Service (SaaS) application works on officers' smartphones, tablets, computers, routers, and MDTs. This far-reaching tracking application provides law enforcement situational awareness for a tactical advantage so they can make informed decisions about where their resources are and where to best deploy them.
Real-time visibility into the positions of individual officers and vehicles enables an agency to continually monitor conditions and tactics throughout a critical event. AppTrac-365 is easily scalable and offers command staff the ability to manage resources and make informed, data-driven community-focused safety decisions. During high-risk events such as a pursuit, it also allows for agency leadership to determine whether to continue or end a pursuit based on information like speed, miles traveled, or surrounding traffic conditions. Ultimately, AppTrac-365 leads to safer, quicker resolutions for officers, citizens, and suspects.
"We were having such great success with deployments, with apprehensions and with recoveries of stolen vehicles… We then realized we could be tracking the patrol vehicle itself when the GPS tracker was not being used on a suspect vehicle." –Captain Steve Albanese, Pittsburg Police Department, California.
A better option for safety
Thanks to a combination of the vehicle-mounted GPS tag and launcher and the AppTrac-365 software, command staff and responding officers maintain the critical insight and situational awareness needed to de-escalate a high-risk situation, avoid a risky pursuit and keep officers and the public safe.
With law enforcement under unprecedented scrutiny for excessive use of force incidents, StarChase's pursuit management technology would be a wise investment for any agency looking to reduce the risks to officers, suspects, and the public that are inherent in high-speed pursuits.
As Corporal Jason Cotton of Gwinnett County Sheriff's Office, Georgia, sums it up, "I stand by agencies acquiring StarChase Technology as a way to reduce risk in law enforcement pursuits because it works. It's as simple as that. My hope is that a StarChase Tag becomes the first line of defense used during all high-risk vehicle events."
Get more info from StarChase.
Read next: Hot water for "hot plates": How one Georgia sheriff's office is tackling stolen and fleeing vehiclesStarChase