Connecting command to the frontline: How critical incident insight keeps officers and assets safe
The AppTrac-365 tracking app operates on all devices and provides agencies with real-time situational awareness for informed decision-making
By Police1 BrandFocus Staff
In today's public safety environment, the need for insight into critical incidents is essential. Just count the number of active shooter incidents in the past year that have required a coordinated response to a dynamic situation. Having a 360-degree view of where each of your officers and vehicles are can literally mean the difference between life and death.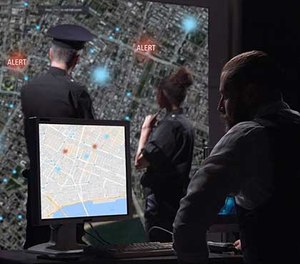 Active shooter incidents, pursuits and other responses that can be dangerous to police officers and citizens alike are not confined to big cities or well-resourced police departments. Although agency resources may be vastly different, the need for tools that enhance situational awareness are the same for police everywhere.
MONITOR AND LOCATE YOUR OFFICERS IN REAL TIME
StarChase, known for its GPS launcher and tag pursuit response management system, has created AppTrac-365, a mobile application that helps command staff and dispatchers track the location of a law enforcement agency's most important asset – its officers. AppTrac-365 uses your existing smartphones, MDTs and laptops, so agencies have zero equipment to purchase.
The AppTrac-365 Command and Control Suite includes the secure AppTrac App and StarChase's secure mapping platform. With AppTrac-365 installed on an officer's smartphone, an officer's location is sent in real time to StarChase's browser-based mapping platform. It also records the data and can replay location history of that "AppTrac asset" during on duty time periods – a valuable benefit for supervisors, as well as prosecutors.
AppTrac-365 offers the agency critical incident response insights, and secure browser-based mapping allows designated users simultaneous visibility into the location of their patrol vehicles and officers, whether they're in their cruisers or on foot.
USER ACCESS AND CONTROL
Users of AppTrac-365 install the app onto the smartphones they carry on duty. Each installation carries a unique number that is associated with their agency's web-based mapping. When the officer begins their duty shift, they click the icon that places them on duty, or the app is set to go active automatically during the officer's assigned duty tour. Secure location data is transmitted over the phone's data network and is updated every few seconds.
AppTrac-365 provides the ability for the user to toggle between on duty or off duty. All updates to duty status are logged and reported to the agency's app primary point of contact. When the app is in off duty mode, no location data is transmitted.
Sometimes an officer may be called into duty unexpectedly. Two taps of the app by the officer can place the officer back on duty and activate tracking. If the situation doesn't allow for a phone call, backup can be directed via the app to the officer's precise location in real time.
When AppTrac-365 tracking data is accessed via StarChase mapping, the user experience includes street or satellite view mapping, as well as a host of other useful reports, functions and features. The default map view shows current location in real time, as well as options to track, download and variable speed replay historical data.
The agency administrator has full control over user access and permissions. StarChase allows multiple authorized users from an agency to monitor location data from any web browser.
DETAILED REPORT INTERFACE
For reporting and evidence, location data can also be displayed in a table, topped by a graph of speed plotted over time. Each entry in the table shows longitude and latitude coordinates, time and date of measurement, speed, device battery strength and an approximate street address for that data point. A new data point is created every five seconds, so an officer's or vehicle's entire journey can be traced in detail.
The secure StarChase mapping platform provides for setting of speed and boundary warnings. If the asset exceeds the speed entered by the user, the application generates an email or text notice to authorized agency parties. Geographical boundaries, often called "geofences," are set within the app, so that a similar notice is generated if the asset goes outside that boundary.
Agencies providing incorporated and unincorporated patrol services can use AppTrac-365 to log time in and time out of each patrol area for more efficient accountability and patrol service billing.
AFFORDABLE AND EASY TO USE
AppTrac-365 can provide an affordable solution for agencies because it does not require specific hardware, a specific CAD package or a dedicated data network. Because AppTrac-365 is secure and cloud-based, it can integrate seamlessly with an agency's existing hardware and data network on any carrier. AppTrac-365 delivers identical functionality whether the device is iOS, Windows or Android, with minimal impact to the device's battery or data usage.
Expanding the capability and speed of information available to command level staff empowers agencies to make informed decisions based on real-time data, improving response times during many types of calls for service.
A TOOL FOR TODAY'S NEEDS
At any moment, a law enforcement agency may be required to respond to an unpredictable, critical situation. Real-time intelligence about an officer's personal physical location and the location of other units, combined with the ability to remotely launch a tag that tracks suspect vehicles from a safe distance, gives law enforcement agencies unprecedented insight into active situations and the ability to respond in the safest and most effective manner possible, for officers and citizens alike.
[wufoo username="starchasellc" formhash="k9kspox114pwqn" autoresize="true" height="1076″ header="show" ssl="true"]